Hampton is an independent city in Virginia. Its population is 138,848. As one of the seven major cities that compose the Hampton Roads metropolitan area, it is on the southeastern end of the Virginia Peninsula.
Find Your Hampton Dream Home
Hampton traces its history to 1607. The city's Old Point Comfort, home of Fort Monroe for almost 400 years, was named by the voyagers of 1607 led by Captain Christopher Newport on the mission which first established Jamestown as a British colony.
Since consolidation in 1952, Hampton has included the former Elizabeth City County and the incorporated town of Phoebus, consolidating by mutual agreement. After the end of the American Civil War, historic Hampton University was established opposite from the town on the Hampton River, providing an education for many newly freed former slaves and Native Americans. In the 20th century, the area became the location of Langley Air Force Base, NASA Langley Research Center, and the Virginia Air and Space Center. Hampton features many miles of waterfront and beaches.
In modern times, Hampton has become the sixth most populous city in Virginia. As of 2012, the city population is 138,848. For residents and visitors alike, the city features a wide array of business and industrial enterprises, retail and residential areas, and historical sites. Most recently, the new Peninsula Town Center development opened in May 2010 on the site of the former Coliseum Mall. Located in the area adjacent to the Hampton Coliseum and the Convention Center, the new urbanism-type project features a wide mix of retail stores, housing and other attractions. Development of new residential development and additional public facilities (such as the new fishing pier recently opened) are underway at Buckroe Beach, long a noted resort area.
Located on the Hampton Roads Beltway, it hosts the Hampton Roads Bridge-Tunnel (HRBT) on Interstate 64. First opened in 1957, it was the world's first bridge-tunnel, crossing the mouth of the Hampton Roads harbor, which serves as the gateway to the Chesapeake Bay and the Atlantic Ocean from the eastern United States' largest ice-free harbor and its tributary rivers. Expanded in the 1970s, the HRBT remains Virginia's busiest and deepest such facility.
History
In December 1606, three ships carrying men and boys left England on a mission sponsored by a proprietary company. Headed by Captain Christopher Newport, they sailed across the Atlantic Ocean to North America. After a long voyage, they first landed at the entrance to the Chesapeake Bay on the south shore at a place they named Cape Henry (for Henry Frederick, Prince of Wales, the elder son of their king).
During the first few days of exploration, they identified the site of Old Point Comfort (which they originally named "Point Comfort") as a strategic defensive location at the entrance to the body of water that became known as Hampton Roads. This is formed by the confluence of the Elizabeth, Nansemond, and James rivers. The latter is the longest river in Virginia.
A few weeks later, on May 14, 1607, they established the first permanent English settlement in the present-day United States about 25 miles (40 km) further inland from the Bay became the site of several successive fortifications during the following 200 years.
Slightly south, near the entrance to Hampton River, the colonists seized the Native American community of Kecoughtan under Virginia's Governor, Sir Thomas Gates. The colonists established their own small town, with a small Anglican church (known now as St. John's Episcopal Church), on July 9, 1610. This came to be known as part of Hampton. (Hampton claims to be the oldest continuously occupied English settlement in the United States). Hampton was named for Henry Wriothesley, 3rd Earl of Southampton, an important leader of the Virginia Company of London, for whom the Hampton River, Hampton Roads and Southampton County were also named. The area became part of Elizabeth Cittie [sic] in 1619, Elizabeth River Shire in 1634, and was included in Elizabeth City County when it was formed in 1643. By 1680, the settlement was known as Hampton, and it was incorporated as a town in 1705 and became the seat of Elizabeth City County.
In the latter part of August 1619, a Dutch ship, the White Lion, appeared off the coast of Old Point Comfort. Its cargo included 20 plus Africans captured from the slave ship Sao Joao Bautista. These were the first Africans to come ashore on English-occupied land in what would become the United States. John Rolfe, the widower of Pocahontas, wrote in a letter that he was at Point Comfort and witnessed the arrival of the first Africans. Although these first Bantu men from Angola were considered indentured servants, their arrival marked the beginning of slavery in North America. Two of the first Africans to arrive at Old Point Comfort in 1619 were Antonio and Isabella. Their child, the first of African descent born in North America, was born in January 1624.
Shortly after the War of 1812, the US Army built a more substantial stone facility at Old Point Comfort. It was called Fort Monroe in honor of President James Monroe. The new installation and adjacent Fort Calhoun (on a man-made island across the channel) were completed in 1834.
Fort Monroe, Hampton and the surrounding area played several important roles during the American Civil War (1861–1865). Although most of Virginia became part of the Confederate States of America, Fort Monroe remained in Union hands. It became notable as a historic and symbolic site of early freedom for former slaves under the provisions of contraband policies and later the Emancipation Proclamation. After the War, former Confederate President, Jefferson Davis was imprisoned in the area now known as the Casemate Museum on the base.
To the south of Fort Monroe, the Town of Hampton had the misfortune to be burned during both the American Revolutionary War and the American Civil War. From the ruins of Hampton left by evacuating Confederates in 1861, "Contraband" slaves (formerly owned by Confederates and under a degree of Union protection) built the Grand Contraband Camp, the first self-contained African American community in the United States. A number of modern-day Hampton streets retain their names from that community. The large number of contrabands who sought the refuge of Fort Monroe and the Grand Contraband Camp led to educational efforts which eventually included establishment of Hampton University, site of the famous Emancipation Oak.
The original site of the Native American's Kecoughtan Settlement was near the present site of a Hampton Roads Transit facility. To the south of present-day Hampton, a small unrelated incorporated town also named Kecoughtan many years later and also located in Elizabeth City County was annexed by the city of Newport News in 1927. It is now part of that city's East End.
Hampton was incorporated as a city in 1849. On March 30, 1908, Hampton was separated from Elizabeth City County and became an independent city. However, it remained the county seat and continued to share many services with the county. On July 1, 1952, following approval of voters of each locality by referendum, the city of Hampton, the incorporated town of Phoebus and Elizabeth City County merged into the independent city of Hampton. It was the first of a series of political consolidations in the Hampton Roads region during the third quarter of the 20th century.
Modern military history
Hampton also has a rich and extensive 20th-century military history, home of Langley Air Force Base, the nation's first military installation dedicated solely to airpower and the home of the U.S. Air Force's 633d Air Base Wing and 1st and 192nd Fighter Wings. Hampton has been a center of military aviation training, research and development for nearly a hundred years, from early prop planes and Zeppelins to rocket parts and advanced fighters. Its proximity to Norfolk means that Hampton has also long been home to many Navy families. Together many Air Force and Navy families in the Hampton area experienced significant losses both in war and also peacetime due to husbands and fathers in combat and also peacetime military accidents.
Hamptons waiting families: The "waiting family" is one of the enduring stories of Hampton and the wider Hampton Roads area as thousands of military families stationed in the Hampton area have long waited for airmen and sailors on deployment both during wartime and peacetime. Consequently, many military families who were stationed in Hampton feel a strong connection to the area. Langley AFB During the Vietnam War: In particular, during the Vietnam War, Langley Air Force Base was a designated 'waiting base' and thousands of Air Force families were transferred to Hampton from all over the world in order to wait while their husbands and fathers served in Vietnam. Thousands of Navy families associated with Naval bases in Norfolk next door also waited in Hampton during this era. Vietnam was a very high casualty war for both Air Force and Navy pilots (some types of planes experienced a 50% casualty rate), and Naval "river rats" who fought on the rivers of the Mekong Delta experienced high casualties as well. There consequently accumulated over time, in the Hampton area, a high concentration of families of unnaccounted for wartime casualties. In many cases Hampton-stationed military families of "Missing in Action" or "Prisoner of War" pilots and sailors spent many years in the Hampton area waiting to find out what had happened to their missing or captured airmen and sailors, and so the service and, in some cases sacrifice, of these pilots, airmen, sailors and their families, despite not having lifelong connections to the area, are also a poignant and inspiring part of Hampton's history.
Geography
According to the United States Census Bureau, the city has a total area of 352.8 square kilometers (136.2 sq mi). 134.1 square kilometers (51.8 sq mi) of it is land and 218.7 square kilometers (84.4 sq mi) of it (61.99%) is water.
Adjacent counties and cities
York County, Virginia (north)
Poquoson, Virginia (northeast)
Norfolk, Virginia (south; border within the waters of Hampton Roads)
Newport News, Virginia (south and west)
Portsmouth, Virginia (south; border within the waters of Hampton Roads)
Northampton County, Virginia – (east; border within the waters of the Chesapeake Bay)
Climate
Hampton's mild four season climate means outdoor activities can be enjoyed year round. The weather in Hampton is temperate and seasonal. Summers are hot and humid with cool evenings. The mean annual temperature is 70 °F (21 °C), with an average annual snowfall of 6 inches (150 mm) and an average annual rainfall of 47 inches (1,200 mm). No measurable snow fell in 1999. The wettest seasons are the spring and summer, although rainfall is fairly constant all year round. The highest recorded temperature was 105.0 °F (40.6 °C) in 1980. The lowest recorded temperature was −7.0 °F (−21.7 °C) on January 21, 1985.
Additionally, the geographic location of the city, with respect to the principal storm tracks, is especially favorable, as it is south of the average path of storms originating in the higher latitudes, and north of the usual tracks of hurricanes and other major tropical storms, with the exception of Hurricane Isabel in 2003.
Major neighborhoods
Bethel Park
Briarfield Terrace
Buckroe
Buckroe Beach
Coliseum Central
Elizabeth Lake Estates
Farmington
Fox Hill
Grandview
Grist Mill
Hampton Woods
Howe Farms
Magnolia
Michael's Woods
Northampton
Newmarket
Phoebus
Pine Chapel
Pine Grove
Riverdale
Sinclair Farms
Tide Mill
Wythe
Westview lakes
Willow Oaks
Points of interest
Air Power Park
Bluebird Gap Farm
Buckroe Beach
Charles Taylor Arts Centre
Downtown Hampton Historic District
Emancipation Oak
Fort Monroe
Chapel of Centurion
Fort Wool
Gosnold Hope Park
Grandview Nature Preserve
Hampton Coliseum
Hampton History Museum
Hampton National Cemetery – two branches
Hampton Plaza
Hampton Roads Convention Center
Hampton Roads Harbor
Hampton University
Hampton University Museum
Jacques Cousteau Centre
Langley Air Force Base
Langley Speedway
Mercury Central Shopping District
NASA–Langley Research Center
National Institute of Aerospace
New American Theatre
Old Point Comfort
Phoebus Historic District
Peninsula Town Center
Robert Ogden Auditorium
Sandy Bottom Nature Park
Strawberry Banks and First Landing Monument
St. John's Church
Veterans Affairs Medical Center
Virginia Air and Space Center
War Memorial Stadium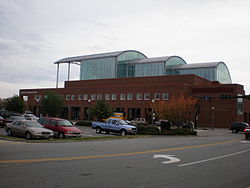 Transportation
Roads and Highways
In the Hampton Roads region, water crossings are a major issue for land-based transportation. The city is fortunate to have a good network of local streets and bridges to cross the various rivers and creeks. Many smaller bridges, especially those along Mercury Boulevard, were named to honor the original NASA astronauts, who had trained extensively at NASA's Langley facilities.
The city is located contiguously to the neighboring independent cities of both Newport News and Poquoson. Many roads and streets are available to travel between them. Likewise, Williamsburg, Yorktown and the counties of James City and York are also located nearby in the Peninsula subregion, and many roads lead to them.
To reach most of its other neighbors in the South Hampton Roads subregion, it is necessary to cross the harbor and/or the mouth of the James River. There are 3 major motor vehicle crossings. Among these are the Hampton Roads Bridge-Tunnel (HRBT) and the Monitor-Merrimac Memorial Bridge-Tunnel (MMMBT), each forming part of the Hampton Roads Beltway. The HRBT is located on Interstate 64 near downtown Hampton and the MMMBT is a few miles away on Interstate 664 near downtown Newport News. (These two major interstates converge in Hampton near the Hampton Coliseum). The third crossing option is the James River Bridge, also in Newport News, which connects to Isle of Wight County and the town of Smithfield.
Hampton is also served by several major primary and secondary highways. These notably include U.S. Routes 17, 60 and 258, and Virginia State Routes 134 and 143.
Traffic congestion is challenging for drivers in the entire Hampton Roads region, particularly during peak commute periods and holiday weekends. Traffic cams and electronic signage help keep motorists aware of trouble spots. Virginia 511 offers telephone traffic information from VDOT as well.
Local and regional public transportation
The Hampton Transit Center, located 2 West Pembroke Boulevard, at the intersection of King Street, close to the downtown area, offers a hub for local and intercity public transportation. It hosts HRT buses, Greyhound/Trailways services and taxicabs.
Hampton Roads Transit (HRT) is the local provider of transit service within the city, as well offering a regional bus system with routes to and from seven other cities in Hampton Roads.
Intercity bus service
Intercity bus service is provided by Greyhound Lines and its Carolina Trailways affiliate. The buses serve the Hampton Transit Center.
Amtrak
Hampton is served by several Amtrak trains a day, with direct service from a station in nearby Newport News (on Warwick Boulevard just west of Mercury Boulevard) through Williamsburg and Richmond to points along the Northeast Corridor from Washington DC through Baltimore, Philadelphia, and New York City all the way to Boston. At Richmond, connections can be made for other Amtrak destinations nationwide.
Virginia is actively working on plans to expand the frequency of the locally offered Amtrak services.
Air
Hampton is served by two commercial airports. Newport News/Williamsburg International Airport (IATA: PHF) is located in Newport News, and Norfolk International Airport (IATA: ORF, ICAO: KORF, FAA LID: ORF), is located across the harbor in Norfolk. Both are located along portions of Interstate 64.
The primary airport for the Virginia Peninsula is the Newport News/Williamsburg International Airport located nearby in Newport News. Originally known as Patrick Henry Field (hence its airline code letters "PHF"), it was built on the site of Camp Patrick Henry, formerly a World War II facility. It is one of the fastest growing airports in the country, and it reported having served 1,058,839 passengers in 2005. The airport recently added a fourth airline carrier, Frontier Airlines, becoming the first new airline to come to the region in over eight years, despite the economic recession conditions. 2010 will likely be the busiest year by passenger count in the airport's history.
The larger Norfolk International Airport (often known locally by its code letters "ORF") also serves the region. The ORF airport is located near the Chesapeake Bay, along the city limits between Norfolk and Virginia Beach. Seven airlines provide nonstop services to twenty five destinations. During a recent year, ORF had 3,703,664 passengers take off or land at its facility and 68,778,934 pounds of cargo were processed through its facilities.
The Chesapeake Regional Airport provides general aviation services. It is located in South Hampton Roads in the independent city of Chesapeake.
Notable people
American history
James Armistead, America's first spy; an African American who provided the information to the Continental Army that Cornwallis was headed to Yorktown in 1781. This led to the forced surrender of Cornwallis.
Samuel Chapman Armstrong, Union general in American Civil War; founder of Hampton Normal and Agricultural Institute, later Hampton University
James Barron, U.S. Navy commodore, captain of frigate USS Chesapeake.
Mary Crow, POW wife and Co-Founder of the National League of Families, nonprofit organization that worked on behalf of Vietnam-era Missing in Action and Prisoner of War Families. Was stationed in Hampton as an Air Force wife when her husband became a prisoner of war and she co-founded the League there.
Jefferson Davis, president of the Confederate States of America, imprisoned in a casemate at Fort Monroe after the American Civil War
Evelyn Grubb, POW wife, Author, Co-founder and National President of the National League of Families, nonprofit organization that worked on behalf of Vietnam-era Missing in Action and Prisoner of War Families. Helped design the "You Are Not Forgotten" POW/MIA flag that still flies in front of all U.S. Post Offices, most firehouses and police stations, all major U.S. Military installations as well as most veterans organization chapters in the United States. Served as the Leagues liaison to the White House, the United Nations and the Paris Peace Talks. Grubb was living in Hampton as an Air Force wife when her husband became a prisoner of war in North Vietnam in 1966 and founded the league there.
Booker Taliaferro Washington (commonly known as Booker T Washington), founder of Tuskegee Institute, educator, author, African-American statesman
George Robert Watkins, politician, member of Pennsylvania State Senate and United States Congress
George Wythe, classical scholar, first law professor in U.S., mayor of Williamsburg, attorney general of Virginia Colony, Continental Congress member, speaker of the state assembly, a framer of the federal Constitution
Music
Robert Nathaniel Dett, notable composer, pianist, choir director, educator, administrator at Hampton Institute; a founder of United Service Organization
Steve Earle, popular country-rock musician and songwriter
Jeff Parker, experimental jazz and rock guitarist in the Chicago-based post-rock group Tortoise
Jerry Roush, vocalist known for his time in Sky Eats Airplane, Of Mice and Men, and Glass Cloud
DeVante Swing and Mr. Dalvin, two fourths of the R&B group Jodeci
Victor Wooten, bassist for the Grammy Award winning "Blu-Bop" group Béla Fleck and the Flecktones
Science
Roy F. Brissenden, World War II pilot, physicist, aeronautical engineer, mechanical engineer, teacher, inventor, project leader at Hampton, Langley Research Center NACA / NASA; great genius of the Apollo Program
Christopher C. Kraft, Jr, aeronautical engineer; administrator at Hampton, Langley Research Center NACA / NASA; great flight director of the space program
Sports
Robert Banks, Linebacker/defensive end; national high school player of the year by the Columbus, Ohio Touchdown Club in 1982
Elton Brown, offensive lineman of the Arizona Cardinals
Jim Burrow, defensive back for the Green Bay Packers
Ronald Curry, professional football player for the Oakland Raiders, former Hampton High School star football quarterback
La'Keshia Frett, former WNBA basketball player; led Phoebus High School to state championship in 1992
Shaun Gayle, Special Teams captain of the 1985 Super Bowl champion Chicago Bears football team, and played with the San Diego Chargers
Marques Hagans, quarterback/wide receiver with the St. Louis Rams
Chris Hanburger, popular Washington Redskins player in the 1970s and member of the Pro Football Hall of Fame
Michael Husted, former professional football player for the Tampa Bay Buccaneers, former Hampton High School placekicker
Allen Iverson, all-star basketball player for the Philadelphia 76ers
Jerod Mayo, NFL linebacker for the New England Patriots
Art Price, professional football player for the Atlanta Falcons
Dwight Stephenson, professional football player for the Miami Dolphins and member of the Pro Football Hall of Fame
Tyrod Taylor, professional football player for the Baltimore Ravens
Mike Tomlin, professional football coach for the Pittsburgh Steelers
Michael Vick, professional football player for the Philadelphia Eagles
Jimmy F. Williams, professional football player for the Atlanta Falcons
Other
David Funderburk, United States ambassador to Romania, United States Representative
Nikki Nova, TV personality, nude model
Oz Scott, director
Information Provided By: wikipedia.org
READY TO SELL YOUR HOUSE THE FAST, EASY WAY?
You Could Sell Your House This Week… simply call VA Real Estate Solutions now at (757) 304-0058.
Or fill out our easy on-line form and we'll get things started
<div class="property-form">
Error: Contact form not found.
</div>